Last Updated or created 2022-07-03
I've took it offline, maybe someone wants the source code and database.
It was much fun, time to move on.
At least i've got some nice reactions
I've create my own bww/bwm to parsons code convertor.
Rest of the website is php, mysql … first one started in 2001 using php3, until php7.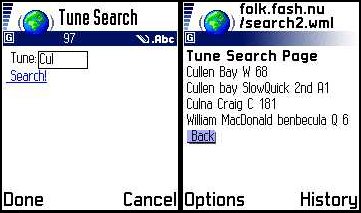 PARSONS CODE: OMG, you don't know how long I have been waiting for a search engine to find tunes in my head. I thought about creating some kind of dictionary based on theme notes, or searching through bww files for sequences. What a thrill to find your site. I just hum a tune, use the up, down, repeat letters and… like magic the title is found. You are a genius. I will never be stumped for a title again. Thanks so much, John
Other successes i've heard of are: 2 Youtube movies being identified, a nameless bww file and mp3's
Mail from Dave:

Hiya

My name is Dave Mason. I put a few tunes together a few years ago called "Tummle Yer Wilkies" which, I see, gets mention on your website. However, I see that you're not sure where people can access the tunes.

Well, the book is free to download from https://sites.google.com/site/tummleyerwilkies/home and I hope to have volume 2, "Tummle Yer Wilkies Too!" uploaded in the near future.

Cheers
Dave Mason

Geneva, Switzerland.

NEW - Palm version by Andreas Joebges (updated)
Added stuff changed software
Added parts in booklist and search.
Additions to www.drumscoresearch.org
Many additions by: Chris MacKnight
Palm version by Andreas Joebges
Added index send by : Henning
sat 14 feb: Installed DB on macbumm's site
sun 15 feb: Made some changes, limit search and layout
            Removed own collections from DB 
            Expanded statspage with jig/hornp/march/etc.
mon 16 feb: Imported College of Piping index i got from Ralf .. (thanks!)  
            Imported Irish Tunes for Warpipe
            Added Log, Fixed Members Login for edit purposes
tue 17 feb: Layout, testing new functions
wed 18 feb: Imported Bagpipe Music - John MacFadyen
thu 19 feb: Uploaded some Book Covers, 
            programmed a export-to-xls function, so you can use the
            DB data yourself (bottom of booklist pages) 
            Imported Gordon Highlanders Vol 1
sat 21 feb: Fixed m?c and l*ken search
            Imported Gordon Highlanders Vol 2
            Added AKA search
            Old search request stays in search field
            Added some covers
            code cleanup
mon 23 feb: Fixed bookcover popup
            Imported Mark Saul Vol I 
            Uploaded Mark Saul Cover II and changed faulty cover other Vol
            Bookinfo added ISBN, Price, etc.  Suggestion i got by Email
            Uploaded Queens Own Highlanders The Pipers Day  
            Imported Seaforth Highlanders - Standard Settings
thu 26 feb: DB cleanup
            Added Code
            Imported Donald MacLeod vol 1 2 and 4
fri 27 feb: 1st editor assigned - Henny Barnhoorn 
sat 28 feb: Imported Vol 5 and 6 Donald MacLeod 
sun 29 feb: CD Information added
            2nd editor - Coline Gerritsen
mon 01 feb: Added CDs .. Thanks Coline
            Gordon Highlanders Book 1 checked/added/etc. by Henny .. thanks
            CD displaying code changed
            Imported Robert Mathieson Book 4  (now over 4000 tunes in DB!)
fri 05 mar: Added CDs
            Altered ShowCD Code
sun 07 mar: Imported some books (NOW 50!)
            Henny Completed reediting Gordon Highlanders Vol2
            Add MP3 clip code in cdinfo
mon 08 mar: Imported book
            Fixed image caching for faulty browsers
            Search finds composers also
            Fixed Menu structure
            Added Templates
tue 09 mar: Added link under advanced search - find ALL harmonies. :)
wed 10 mar: Added book with cover + MP3 sample
thu 11 mar: Imported Piob. CD
            Added edit icon help 
fri 12 mar: Find tunes on CD in beta test .. :)
            (click search -> advanced .. enter a keyword, mark the media
            checkbox and click search .. CDs found at bottom of page .. :) 
sat 13 mar: Imported another filled-in cd-template :)
            Added some covers
wed 17 mar: Added 15 Piobaireachd Society Volumes
sat 20 mar: Added 3 CD's
tue 23 mar: Added several books (5166 tunes now!) Thanks John 
thu 25 mar: Changed code, checked book, imported book
tue 30 mar: Uploaded covers, edited book (Murray Blairs) and added books 
till
tue 06 apr: Uploaded Covers, Added books, Changed code
till
sat 17 apr: Imported some books, added parts to export-excell
            (will be in search later)
            Henny checked/edited some books
tue 20 apr: Imported books, testing query caching for speed improvement.
            (yes getting kindda large .. this thingy)
thu 22 apr: 100! BOOKs!
--missing log--
Added book, covers e.t.c.
sun 11 jul: Added Battlefield Book (thanx Markus)
mon 11 jan: Added 2 books (thanx again Markus)

159 Books
9868 Tunes
1047 Air's
1315 Jigs
638 Hornpipes
3352 Marches
489 Piob's
1586 Reels
844 Strathspeys